About Dulung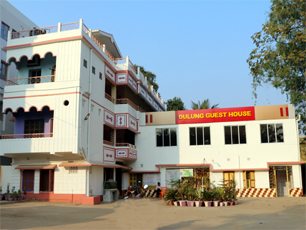 Dulung Guest House
was established in the year of 1997, since its establishment, this lodge earns its fame for their sincere service, sweet behaves, cleanliness and peaceful environment with homely atmosphere. It is located at Jail Khana More (5 min walking distance from Jhargram Railway Station and 7 min from Five Points More). We are trying to improve our service day by day, When you stay with us, you're not just staying anywhere; you're staying somewhere-within a vibrant community, in a unique hotel that combines authentic local experiences, modern design and intimate service with the peace of mind and consistency of staying with one of the Midnapur largest hotel groups.
Each hotel is as individual as its surroundings and is also a reflection of them. You'll catch guests and neighbors hanging out in our bars, get great advice from our team members on what to see and do in the neighborhood, and be refreshed by just how relaxed and inviting it all feels. We commitment to excellence, attention to detail and personalized service has ensured a loyal list of guests.
Our each and every stuff go out of their way to make each stay memorable and our neighborhoods easy to discover and appreciate, you can trust our team members to provide you with great local recommendations.
Attraction of Jhargram
Jhargram is one of the most important city in Paschim Medinipur District of West Bengal,India. It is multi-cultural and cosmopolitan city. Jhargram is famous for its wooded beauty and topography culminating in the hill ranges of Belpahari, Kankrajhor to the north and Subarnarekha to the south. It is a favorite destination for people who love forests. The ancient temples, royal palaces, and folk tunes and rhythms make this area attractive. The West Bengal Government is planning to establish Jhargram as an independent district. Surrounded by dense Sal and Mohua trees and carpeted in red earth, Jhargram is an ideal destination for spending few days, on a comparatively low cost budget. Situated in West Bengal and quite close to the Jharkhand State, Jhargram shares it culture with both states. Winter in Jhargram is very enjoyable.